Three Tall Women
'Three Tall Women' in Vienna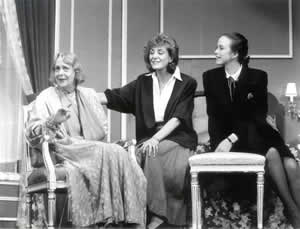 Photo by Victor Mory of Vienna.
VIENNA — Edward Albee's new play, "Three Tall Women" — his first in five years — had its world premiere at Vienna's English Theater with diplomats, officials and prominent personalities in attendance.
Albee, who directed, believes that Samuel Beckett and Eugene O'Neill have been the strongest influence on his work and this is apparent in his latest drama, It is akin to Beckett's tragicomic treatment of the grotesque shipwreck of the human spirit in advanced years and recalls O'Neill's "Strange Interlude" in its searching portrait of a woman's psyche.
The play is in two parts. In the first we are introduced to an elderly lady in her upper middle class home. She admits that she is 91. It seems she has lowered her age by a year. She is the widow of a wealthy husband and has inherited enough to keep her comfortably off.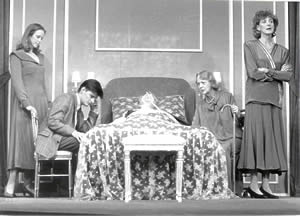 Photo by Victor Mory of Vienna.
She has a middle-aged secretary and a young woman lawyer to manage her financial affairs. The secretary-companion also acts as her nurse. She babbles of the high rank she held in sporting society with her stable of horses. The pert young lawyer taunts her for her boasting. Her recollections are confused, but the dialogue is alive, interesting and often comic. Suddenly the chattering nonagenarian is silenced by a stroke.
In part two, a figure of the still living old woman lies on a bed in the background, her face covered with an oxygen mask. The actress who played the dominating woman at the start sees her existence reviewed, the middle-aged secretary is transformed into herself in the middle years and the sassy young lawyer becomes the woman in her 20s.
Albee's writing of the second act is among his high-water marks in dramaturgy, a remarkable theatrical adventure into feminine psychology, thoughtful, humorous and moving. He vivifies his text with his directorial skill and his casting is impeccable. Myra Carter's capricious old dragon in decline is superb; Kathleen Butler does the cynical hut resigned secretary to comic, effective contrast, and Cynthia Bassham has freshness and stylish grace as the young girl remembering her first love affair.

Copyright © 2004-2007; Cynthia Bassham
Original Site by ess-eff webworks